If it's not obvious from the list of jigs on my Jigs page, I love making jigs. I get a lot of satisfaction from making my own.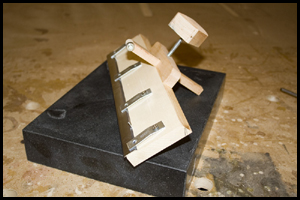 When faced with a difficult task in the woodshop or one that requires repetitive cuts, a jig can usually save the day. We woodworkers can use our ability to…well…make stuff to our advantage. Jigs can usually be made from scraps laying around the shop in a few hours or less.
I get my inspiration for different jigs from the internet and woodworking on-line stores. It usually isn't that difficult to make a 'store-version' jig at home simply by looking at the pictures on-line. You can save a bundle of money and gain a huge amount of satisfaction from making it yourself. Plus, you get to make it exactly the way you want it (ok, not every time). I like having the ability to modify my jigs to my taste, a task that can be difficult with a store bought jig.
I have heard from some woodworkers that they'd rather not waste their time making a jig that they could buy. I can understand this when it comes to production shops where time = money. But for the hobbyist, it just doesn't make sense to me. We hobbyists are in this for the fun of it (supposedly) and part of the fun is making your own jigs. What's your take?