---
I finished my Edison Lamp today.  The project had a few challenges which made for a fun and interesting project.  The method for wiring the bulb sockets was one of those challenges and I think I came up with a nice solution.  The two lamp cords go into a block of walnut with a wide channel cut into it which served as a great place to make the electrical connections.
A cord goes into the back top rail and turns to one of the sides and inside a groove.  The groove was covered with wood strips (inlayed) in order to keep the cord in the channel.  If this doesn't make sense it will after you watch the video series.
I hope to have part 2 of the build video released early this week.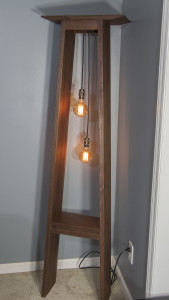 Tags: Edison Lamp