Over the weekend I finished my wife's sewing box which included finishing the removable tray, feet, hinge mortises and applying a finish.
For hinge mortises I normally use a router and a chisel, but this time I used my new router plane.  My wife bought me a router plane several months ago and I never had a use for it until last weekend.  It was a lot more fun and less stressful to mortise for hinges with the router plane than the router; plus it was more quiet.
I finished the box with a mixture of polyurethane, boiled linseed oil and mineral spirits in a 1:1:1 ratio.
I have part three of the build video ready for publication, but before releasing it to the world I wanted to complete a set of build plans to go along with it.  So, if you'd like to build the sewing box, you should be able to with the plans and the accompanying video series (three parts).  The plans will be available for a small fee.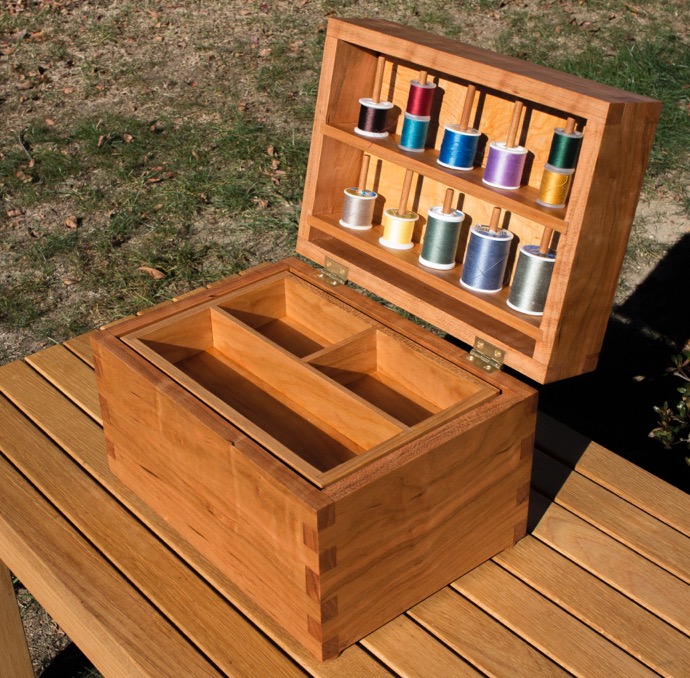 The photo above, with the lid open, shows the thread spools on their respective dowels.   The dowels slide into holes in the shelves with a friction fit.  I thought about having the entire shelf removable in order  to access the thread spools, but in the end I felt the removable dowels was a better option.
I couldn't resist showcasing the beautiful curly maple figure in the lid panel (below).  As the cherry ages and develops a darker color, it will contrast even more with the curly maple.
I gave the sewing box to my wife already, and as far as I can tell, she loves it!
Tags: sewing box