WE HAVE A WINNER!!
I painstakingly hid Easter eggs all over my website (excluding the forum and Blog).  They are not visible yet, but they will appear sometime this evening (4/19 – EST).  When you find an egg, click on it, and then keep looking until you've found all five.   If you find all five of the eggs you will be prompted to enter your name and e-mail address. The first person to find all of the eggs, and submits their contact info in time, wins.
Some of the eggs are easy to find and a few might take you a while.  Have fun!
The winner gets a T-shirt of their choosing from my cafepress store OR one of my plans from my website.  If you are outside of the USA, I can only offer one of the plans as a prize.
I will contact the winner by e-mail to find out what they'd like.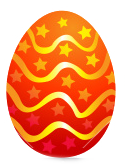 Happy Easter,
Brian
(Cookies must be enabled to play)