November 28th, 2019
Happy Thanksgiving!
Take 50% our first League project with code gobble50 through Monday.
September 30th, 2019
For the past couple of weeks I have been creating a new page at GW for a paid subscription for exclusive GW content. And we are calling it Garage Woodworks League.
The project videos will be significantly more detailed than my usual YouTube videos. The League videos will be multi-part (episodes) and when you purchase a project you will receive email updates when a new episode is ready for consumption. The videos will be offered in two streaming formats 1080P or 720P and we are offering the 1080P version as a download if you'd like. We can also create and stream MPEG DASH (adaptive bitrate) if we find that that method works better moving forward.
Anyway, I hope you check out the new page and the kick-off project – a bookcase with proud, through tenon joinery.
Cheers,
Brian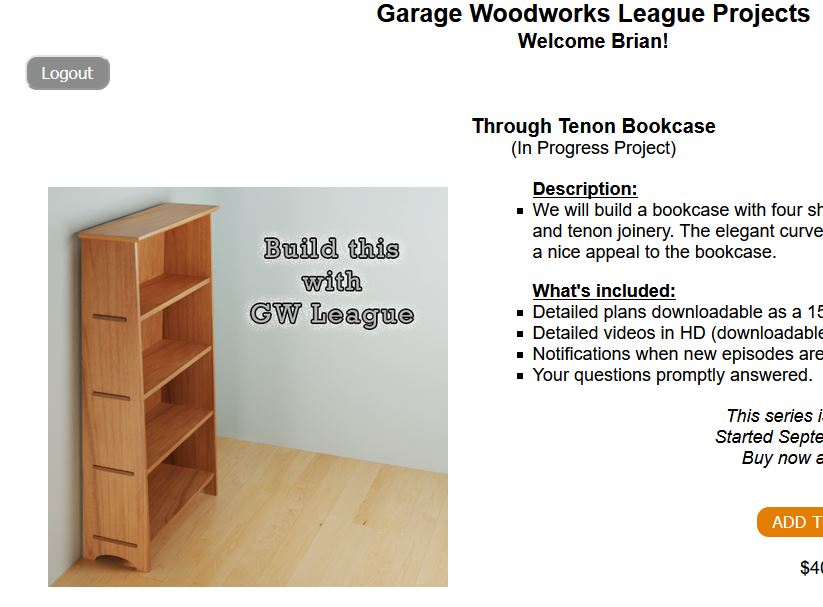 September 4th, 2019
I knew a professor as a post-doc, that was only interested in your new drug designs if your synthesis utilized his synthetic methodologies (*process for making the drug). For him, drug discovery was more about the chemistry you used to make the drug than the drug itself. I always found this odd and saw it as a problem.
I see a parallel when it comes to making furniture. There appears to be a lot of woodworkers that are more interested in showcasing a particular joint than they are in the overall design of the piece. Have you ever come across a piece of furniture with beautiful hand-cut dovetails that looks boring or lacks imagination as a whole? Of course beauty is in the eye of the beholder, but I see it routinely. Like the professor at the beginning of my rant, some are more interested in showcasing their hand cut dovetails or intricate joinery than the overall look of the final product.
This is where I hope to improve as I grow – by improving my skills as a good furniture designer; I'm NOT where I want to be yet. I've made a few design duds along the way that look good in CAD, but lose their appeal in real life.
This is a topic that I wish was more extensively covered in print media; not articles regurgitating Fibonacci numbers or making designs first from cardboard (trial and error), but practical design methodologies. Are you listening "print media"?