Out of sheer laziness and cheapness I decided to make a bevel setting gauge for my chisel honing guide.  In the past I would place the chisel in the honing guide and eyeball the correct placement in the honing guide for my bevel; it was usually hit or miss and would require readjusting.
The bevel angle setting gauge was designed to work with my honing guide and the basic idea was taken from commercial examples.  I will most likely draw pencil lines for my most commonly used bevel angles alongside the 'chisel stop'.
A 1/4″ channel was created in a piece of hardwood for a 'chisel stop' to travel.  The 'chisel stop' has a 1/4″ slot with a 1/4″ piece of wood glued in place which will travel in the 1/4″ channel.  A piece of threaded rod was placed through a hole in the 'chisel stop' and inserted into a threaded insert in the 'chisel stop' (two nuts were used to lock the 'chisel stop' onto the threaded rod).  A nut on the opposite side of the channel component (epoxied into a piece of wood for a knob) will lock the setting.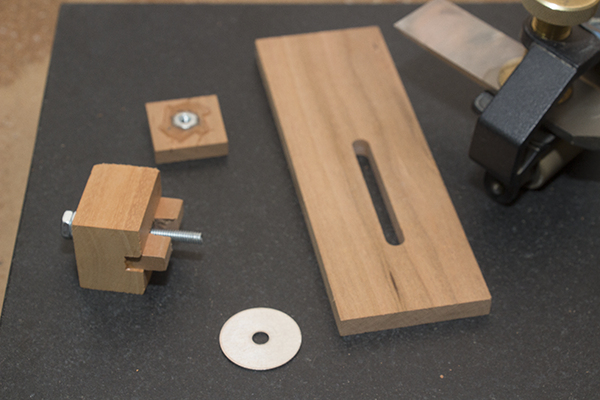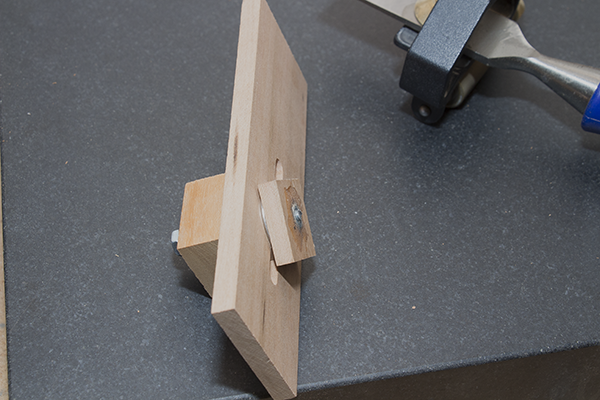 Pencil marks next to the 'chisel stop' will define my most commonly used bevel angles: